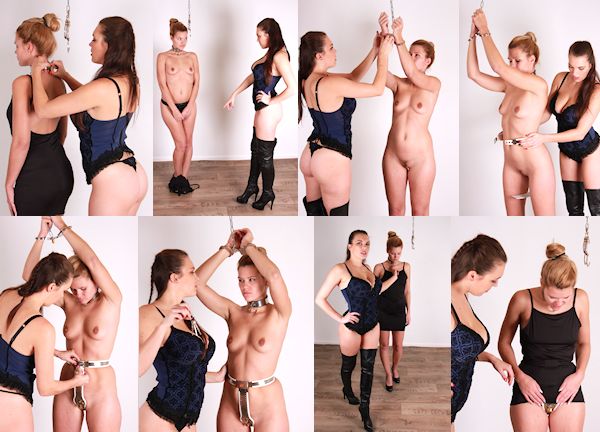 The cute blonde Izzy Delphine is belted by her Mistress: Sam Lee! It has been a while since we had any updates in this category (that we can no longer name 'f*rced' for legal reasons). But it's always fun to see a very reluctant girl get belted!
Of course Izzy does not want to get belted. She loves to touch herself! But she is no match for her spectacular mistress Sam, who has full power over her. Izzy is collared and then Sam tells her to undress ('panties too!!'). Mistress Sam cuffs Izzy's hands high above her head to prevent any interference with the belting process. A nice white trimmed chastity belt is locked onto Izzy's young body. That will teach her to behave herself.
After the belting, the keys disappear in Sam Lee's ample cleavage. It's probably the safest place to keep them. Izzy knows she will never get those keys without Sam's permission. Her hands are uncuffed and she is told to get dressed again. How long will she be locked? Can things get any worse? Spoiler: yes, they can, check back on Friday to see what evil plan Sam had in mind for her cute young slave Izzy!!