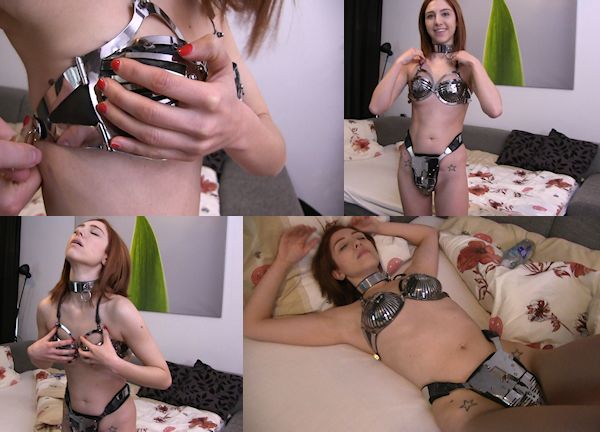 Of course, it had to happen: Donna's Chastity Deal has been a little too easy for the number 1 Chastity Babe in the world! Carrara Designs was nice enough to borrow me a bra with the smallest cup and the smallest size back strap, because Donna is very tiny.
Even Donna was not really surprised. Well, she did seem a little bit shocked because she had never seen a Carrara bra before, but she probably knew her Deal would have some Challenges along the way. She is about two weeks in, so still two weeks to go in this bra. No breaks from the bra (and collar) of course. Donna is a side sleeper and in this bra she can only sleep on her back. This means restless nights, and a grumpy Donna, we have seen it before. She needs to get enough sleep, which will be a lot harder now.
Still, Donna even started to put on the bra without me telling her to do so, she is an experienced Chastity Babe so she knows she has to complete her Deal to get paid. She probably did not read the contract very well, just like with all her other Deals, but it doesn't matter: whatever she has to do, she will do. Because she knows she can handle it. Donna is in it for the money, but she loves a Challenge. She will never ever give up.
I wonder what else I can add to the Deal… But first, let's see how she copes with this small Carrara bra. It is a true work of art, and Donna is in a lot of armor now. I just love how she told me the bra was tight, and then as soon as I left she started taking selfies to send to Italy. Girls! Enjoy Donna in her latest addition of chastity gear, she looks awesome!