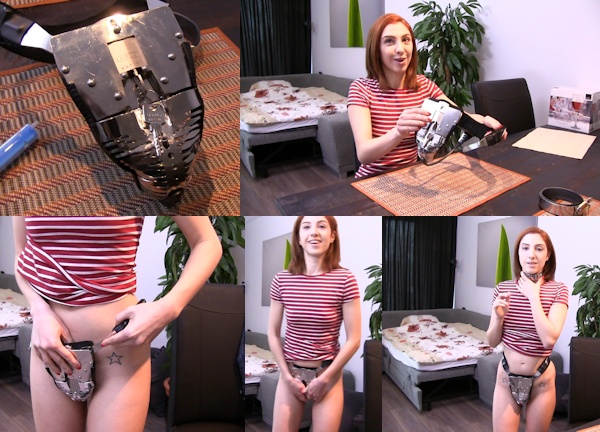 Everyone's favorite Italian girl is back in Holland! I'm so excited! Donna is definitely the one who put this website on the map, and she continues to be amazing.
With a slightly different look, fresh and optimistic, Donna is going to attempt to spend 30 days in a chastity belt and a collar. She was even looking forward to it! She walked into the Amsterdam apartment today, with her little suitcase, and it immediately felt like she never left. Donna belongs here! And I couldn't believe there is a girl as excited as I am about doing a Chastity Deal. She is simply awesome.
She is also simply very tiny. Her 61cm waist can even be reduced to 57cm or below with a tight belt. She is about 165cm tall. So I had a special belt made for her again, because I had to do a lot better than last time. I made a deal with Carrara to get her in an ultimate security belt with lots of super padded lining to make sure Donna could actually keep wearing this heavy belt for 30 days. This is by far the heaviest belt Donna has ever worn. It is massive. And it's very secure, it has a salt-water proof marine padlock built in with a coded key that can not be copied. The key is even filed down to fit in the belt, and I only have 1 key! If I lose that one in the next month, we will be in very serious trouble.
Donna will also be locked in a collar for 30 days, even in public / outside. No breaks from the collar. She gets supervised toilet breaks from the belt. Peeing is possible though and the Carrara has a built-in cleaning system that can rinse Donna's private parts (more on that later). A bra may be added later in this Deal, depending on how well she is doing.
This is a seriously heavy belt, but very comfortable. I'm curious how this small girl will cope with this. I just can't believe she came back for the 4th time, and it's not even summer yet! She will be cold, but she seems determined to make it. Did I mention how awesome she is? I hope you are as happy as I am to see her again. Please comment, Donna will be reading!