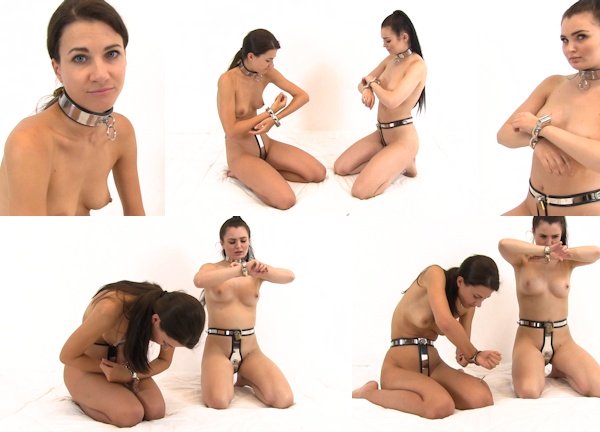 Okay, here is a dramatic Challenge, as inspired by you, the members. Filmed entirely in white, for extra dramatic effect :)
Anyway, many of you have suggested an unbelting where 1 girl gets out and the other girl has to stay locked. This was the perfect opportunity to do so! I told Lauren and Celeste that one of them could already be unbelted (and get her reward) and the other one would have to stay locked till the next morning to get the cash prize. To decide who would get unlocked, I cuffed both girls in Irish 8 handcuffs with their wrists crossed in front of them. The first girl to escape would be let out of her chastity belt.
These cuffs are quite hard to open. You need to push the key in while simultaneously pulling the cuffs apart. So the dilemma was: would one girl help the other to get out, leaving herself locked in a chastity belt for the night? Or would they try to get out by themselves as fast as possible? It would really show just how close Lauren and Celeste were as friends. It's an evil choice: would you help yourself or the other person first?
It was all made even more difficult by the fact that the shy Celeste doesn't understand English very well. So I don't know if it was clear to her what the stakes really were (I think Lauren was kind enough to translate for her, but I don't speak Czech so maybe she said something else). Also, Lauren knows how hard it is to sleep in a belt, so she definitely knew she didn't want to do that again. But would she keep her dear friend locked up in exchange for her own freedom?
Check out the video to see what happened, and please leave a comment if you like this kind of 'competition dilemma Chastity Challenges' (and if you know any other evil dilemmas for future shoots).