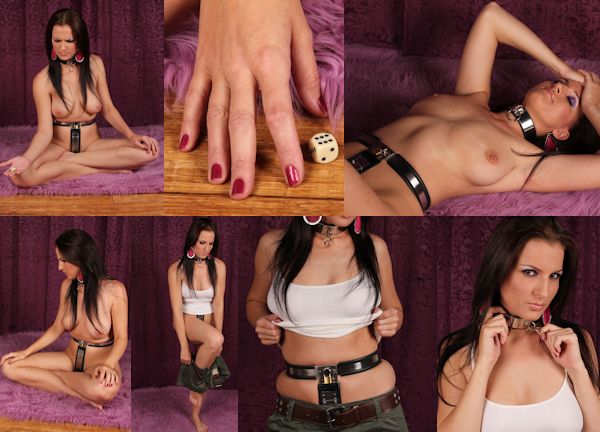 We found a new girl to put in a chastity belt!! It is Walleria, and she is lovely! At least, she was lovely in the chastity belt photo shoot we did with her (we will show you soon), but when we decided to challenge her after the shoot she was not a very happy girl.
You see, we made the waist band of her chastity belt too tight, like a corset, even tighter maybe. This makes the belt unmovable, and the crotch piece really stays in place very well. So Walleria was really looking forward to be released! She had been locked in the chastity belt for about 1 hour.
However, we had other things in mind. We told her she had to roll a die, and the belt would come off after the number of hours she rolled. A huge challenge that Walleria did not anticipate…
Making the roll was the hardest part. Sighing and hesitating, Walleria was actually afraid to roll the die. And when she finally did… she rolled 6 of course! Six more hours in the super tight belt! How would she handle this? Her waist was hurting a lot already.
Walleria decided to put on her clothes over the belt, and we really love the way her cute shorts go with the chastity belt! A super tight challenge with an unhappy girl, this update is fun to watch :-) Sorry Walleria…