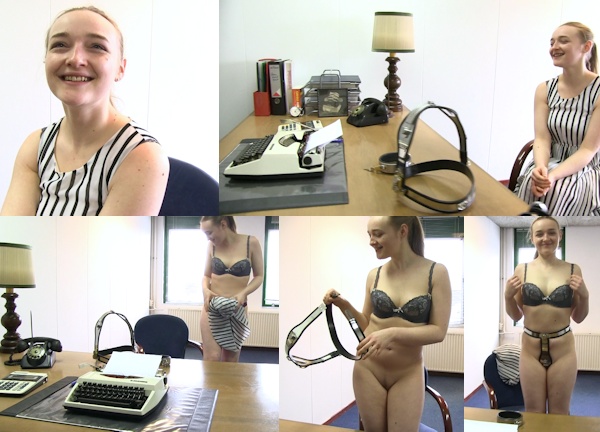 Hiring the right person for the job is not easy. Kerry from Scotland responded to the job opening I had in the office, even though the ad clearly stated she would have to wear a chastity belt and collar every day. When a girl still responds to that, you know she will be a good candidate!
Kerry was so lovely! She is literally ALWAYS smiling! Talking to her, I immediately felt I should hire her, but there was still one thing that could go wrong: the heavy rigid NeoSteel I left on the desk (which Kerry had been studying before I came in)… it HAD to fit her, or I couldn't hire her. Well, let's just say I got super lucky that day! You have never seen a more perfect fit on a girl, the belt was tight on the waist and crotch and Kerry couldn't even get her fingers under the belt! This would definitely help her focus on her office tasks.
Of course, a locked collar was also in the contract. How anyone can have employees without collars I don't know. Girls just need to be collared. I know this is a chastity website, but I think collars are a vital part of a chastity outfit. Kerry had no problems with that either, she even locked herself in. She even commented she would get faster at locking herself in the belt and collar every morning she would come into the office!
After signing the necessary papers, I got myself a new employee! I actually had no idea what I would have Kerry do, but I was going to test her over the next few days. How far would she be willing to go? It seemed like she is really into chastity, bondage, and fetish, so this would be a lot of fun!!