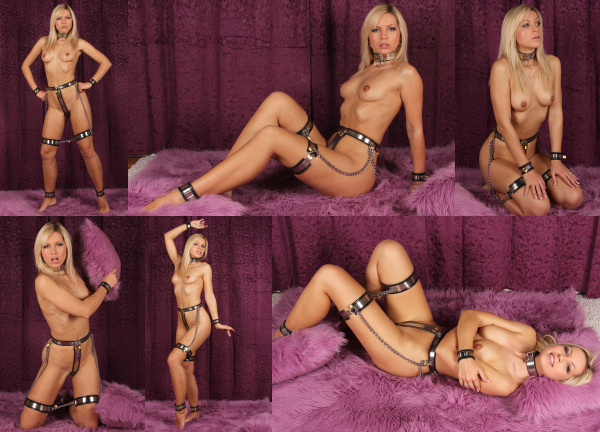 You asked for it! Thigh bands seemed to be a very popular member request, so we decided to introduce them today. And who better to show you our new chastity additions than the lovely Jenni C, who is quickly becoming the leading chastity model on the internet!
Of course, we will show you thigh bands in action, and outdoors, and under clothes, and all other things (members, don't forget to send in your requests by email), but for this introduction, and to get a close look, we organised a small photo and video shoot with Jenni. She looks absolutely stunning, wearing nothing but metal. She is wearing a locking collar, wrist cuffs, and ankle cuffs too. Stylish! It took a total of 14 padlocks to get Jenni locked up like this, can you spot them all?
Our custom made thigh bands are adjustable. They can be made slightly larger or smaller, to go higher or lower on the leg, and the garter chain is also adjustable. The bands have D-rings on the inside, allowing us to connect the thigh bands with a piece of chain. The shorter the chain, the shorter the girl's stride will become. This will be especially restrictive in high heels under a dress, out in public.
Jenni loves to rattle all of her new chains, and she certainly likes to show off her body and her chastity outfit. Naughty as ever, she starts throwing pillows at the camera, challenging you to come get her. After all, with all this protection, she feels almost invulnerable!