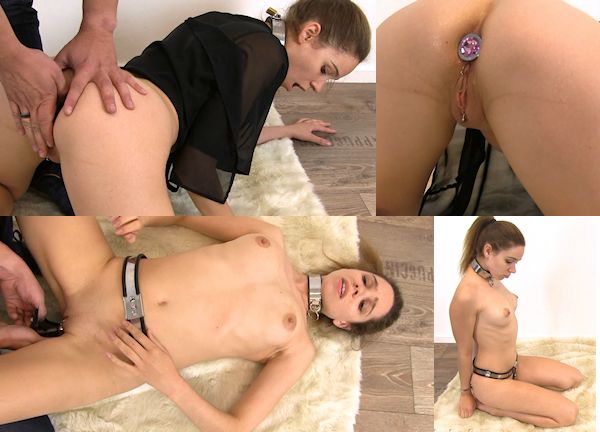 Lizanne is a real life submissive from Belgium, she loves to serve! She is a very natural submissive and her Master is very strict. When I invited them over again, I did not expect him to be so strict with this cute tiny girl!
In this video update, you can see how Master double plugs Lizanne without mercy. She will get a bigger jewel butt plug than she has ever had before, and Master wants to get it in without almost any preparation. That's a real challenge for Lizanne, who is quite small and didn't expect to be fitted with an anal plug today. You can see by her squirming and resisting that it is definitely not easy to let this plug slip in, but once it is in, it is firmly in place, the only part visible is a beautiful pink jewel.
After the ordeal of being butt plugged, Master proceeds to lock Lizanne in her hip style MySteel belt. Plugged of course. Lizanne resists again, but she knows she is no match for her Master who is much stronger. Before you know it, Lizanne is double plugged and looking very sad. She is always quite horny, and she knows whe will probably not get to play with herself for a long time. Plugs only frustrate her.
Master finishes his job by handcuffing Lizanne behind her back, leaving her to contemplate her fate. Cute Lizanne is defeated, the two plugs inside her remind her she is just a play toy for her strong Master, who will do whatever he wants with her.