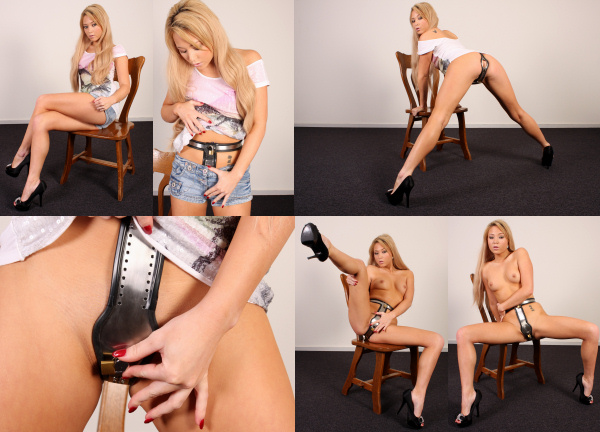 So one of the member requests we received was a fantasy about locking an erotic star into a chastity belt. Not just any porn star, but a high class adult film star. The big contrast between having sex all the time and being completely unable to have sex at all reflects the total control you can have over a girl in a chastity belt, as her key holder. Even if the girl is one of the finest erotic glamour stars in the world, you will have absolute power over her by just holding a set of tiny keys!
The beautiful Natalia Forrest completely fits this description. This hot blonde from the UK is well known on the internet, but not for her chastity. As it turns out, Natalia is just a very kind and funny person in real life, and she was very interested in our request. As requested by some of our members, Natalia does not put her belt on herself. She is locked from the beginning of this casting, stripping slowly to reveal the belt.
We adjusted this belt to be very tight, because Natalia wanted to really experience this chastity experience. And since she is very sensitive and easily stimulated, even letting her get one finger under her belt would allow her to masturbate. You will see Natalia's hand go to the padlock on the secondary shield all the time, more so than our other girls do. This is because she can feel the vibration if she jingles that padlock. She told us she would get really REALLY frustrated if she ever met a man who would make her wear a chastity belt. And by 'frustrated', she meant 'horny', she clarified just to be sure.
Natalia would love to see comments on her Casting. Of course, unlike some of our other babes, she can not wear the belt for longer periods of time (because she has a job to do), but if you like her, she agreed to come back to fulfill a lot more member fantasies!