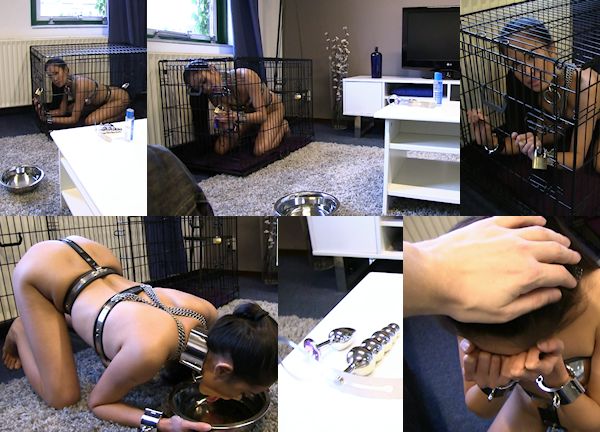 Davon is still with me, spending time in her cage or chained to her bed, when she is not cleaning or doing other chores. Sometimes she is plugged, sometimes she isn't, I need to clean her belt every few days anyway, so it is a good time to change the secondary front shields from perforated (no plug) to slotted (vaginal plug).
Usually, Davon is chained to the bed when I take off her belt and go and rinse it. It is necessary to make sure she can not touch herself when the belt is off. This week however, it was a little different. I made Davon change the shields herself and insert the dreaded 5-ball plug (which is huge compared to Davon's tiny body). I also told her to insert an anal plug for the first time.
I wanted to see if she paid attention when I showed her how to change the shields. Remember when she witnessed how to do that for the first time? And of course, after so many member emails, I could not ignore your requests for an anal plug. I wondered if both plugs would fit into her at the same time. Davon has the tiniest body I have ever seen.
I released her from her cage to tell her this double plug news, but Davon wasn't very enthusiastic as usual. She is becoming better trained, but she is still sulking a lot about her fate, and sometimes even thinking about giving up. But she really does not want to go back to the Philippines so she doesn't have much of a choice. She should not have broken up with her Dutch ex-boyfriend, that's where all this trouble started for her.
Don't forget to come back on Friday for the second part of this exciting update!