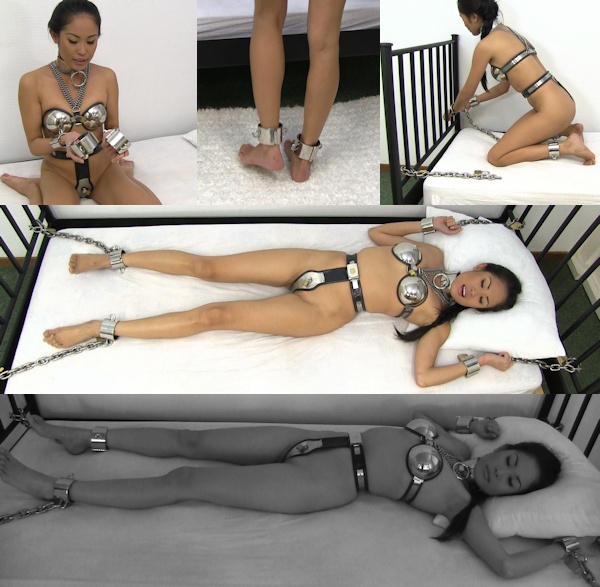 After searching my cuff collection for a while, I finally found the perfect ankle cuffs for Davon. Okay, they are really wrist cuffs, but Davon is so super small, they fit on her ankles. These cuffs have a special spring-loaded ball pin, which is too small even for Davon's fingers to get out after closing them.
I did not make her wear heavy ankle cuffs before, because they really hurt the Achilles heel when walking, but I thought it might be a good idea to add them to her bed routine. I wanted to lock her to the bed in a spread eagle style, to prevent her from tampering with her belt at night (especially when she is wearing a plug, she is rubbing the belt too much). Of course, this was reason for a whole new whining and complaining episode, as you can see in this video update.
Davon really does not like heavy metal gear, maybe because she is so thin and tiny. But I like my studio pet slave to be secure, especially at night. So I got four heavy chains and made her lock herself to the bed. Sure, the first night she would not sleep much, but a person can get used to anything, so it will probably only take a few nights for Davon to be able to sleep without waking up all the time.
This first night didn't go bad either. I had a camera set up to monitor her, but aside from a short screaming fit she looked to be okay and very secure. I think this will definitely be the new sleeping mode for Davon! Anyone who will visit her in the upcoming Meet & Greets can also lock her to the bed if they want to! It will be fun to try this yourself! Alternatively, if you are so inclined, you can also be locked to the bed by Davon! I'm sure she will love that haha!!!