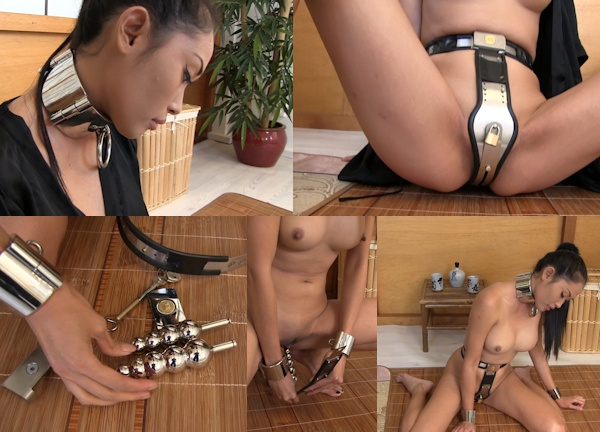 Very recently, I received a new prototype plug for the Chinese belts (with slotted secondary shield). It is heavier, longer and it has 5 balls instead of 4! Instead of waiting for a new Chastity Deal, I ran upstairs to my lovely chastity friend Davon and gave it to her as a present!
She was still sobbing a little, but not as much as usual. However, when she saw my present she started protesting and sniffing again. It seems she did not appreciate this new insertable as much as I did. Still, I really wanted to test it and gave her the keys to remove her belt. Davon did not think twice about that (no protesting there), and she carefully unlocked herself, sliding her big 4-ball plug out of her vagina.
Davon is a very tiny girl, I guess that is hard to see on the video clips without someone standing next to her, but she is tiny and slender. The 4-ball plug almost reached to her belly button. The 5-ball plug would even go deeper. In fact, when she finally tried to slide it in, she had to sit on it to make it go deep enough pressing her weight onto the floor to be able to close and lock the chastity belt.
I ask her if she could still stand up and she seemed fine (minus the usual whimpering). I think this new 5-ball plug is a big improvement! Davon will get used to it, no doubt! She doesn't have much choice. She will be fine in a day or so. Let's see what other upgrades we can think of for our lovely resident Asian chastity babe!!

Davon Kim is available for custom shoots and meet & greets in my studio! Come see her, she will appreciate the distraction! Her collar and cuffs can be removed for shooting. She is not available for any shoots without her chastity belt though.