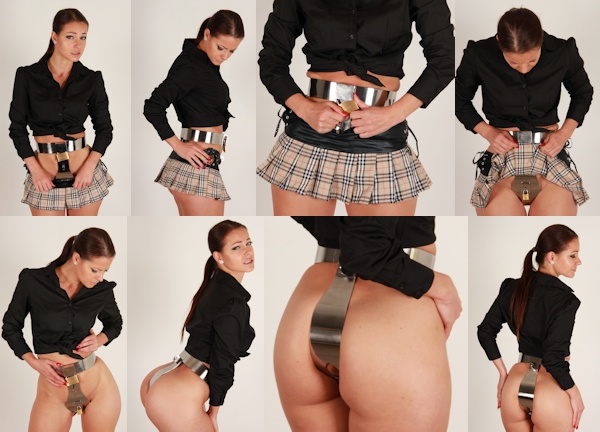 Over the past years, I have developed some custom made heavy steel belts myself, but they were just for shoots, not for practical use. They are very heavy and unforgiving. Some of them are adjustable, others are very specific sizes. Last February, the cute little Jessica did a short test with one of these belts, remember this?
Many members liked the idea of a Chastity Deal in a very heavy belt, but the unprotected steel is just too harsh for girls to wear all the time. It digs into the hips and causes problems between the legs. Unless… the girl has the perfect measurements for the belt (and not the other way around, since these belts are already made). This particular belt is adjustable in the crotch area but not in the waist. It also has a super curved bottom area. So we need a short girl with the perfect waist size and a VERY round butt! There is really only one girl who comes to mind: Melissa!! The best butt in the world! I have been waiting to lock her into the heavy belt for a long time.
When she finally came to visit me again from Czech, she wasn't expecting an afternoon in this metal contraption! But an afternoon was definitely needed, I told her, to test the belt, see where it needs improvements to eventually be able to do a Chastity Deal with it. Melissa was not so impressed, but I was amazed by the fit of the belt on her! Look at her awesome butt in this belt! The belt is fully functional, there is a secondary shield and an anal opening, so it is perfect for long term wear. Melissa refused to pee through the slot though, so she had to wait the whole afternoon to go to the toilet.
I think the test worked out pretty well. I just need to find someone to sign the Deal. So far two models are perfect for the belt. Jessica and Melissa. Who do you think I should offer the chance to make a nice amount of money??