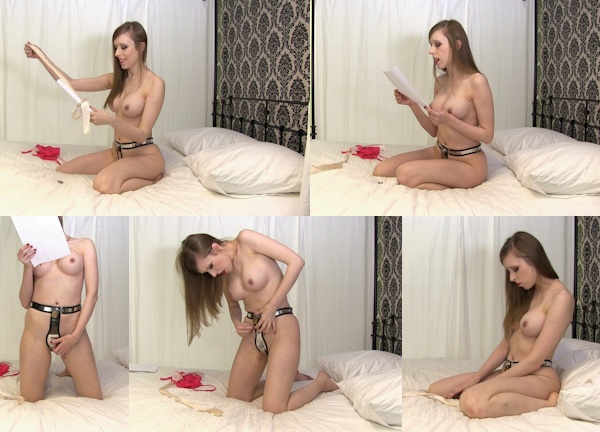 Cobie was back in Holland for a week to serve another Chastity Deal! I will go with her to BoundCon Munich next week to have some more chastity fun and promote the wear of protective devices to the public! So what did Cobie do in Holland this time? Well, she had a lot of work actually, and one of the things she did was filming custom videos for you! Here is one that was especially fun to do, in which Cobie finds a cursed magic scroll that reads:
A curse of cold steel
For centuries, a secret cabal of sorcerers, whose names were forgotten in the sands of time, have practice cruel and unusual dark magic and arts. These were the first practitioners of what today we would call "bdsm." One of there favorite tools of enslavement was the Chastity Belt. The belt prevented any girl unfortunate to be locked in it from having any sexual pleasure. It was not only a tool of control, but also a symbol of slavery and power over the belted. Every sexual thought, every carnal desire the belted girl has, will be directed towards the one who holds the key, the one who controls her sex. These practitioners of chastity would also put hexes on the belt, a curse of cold steel they would call it. Some of these magical belts would tease and torment their victims, and others would be sealed away forever, with no hope of escaping from the metal prison they are forced to wear. Many girls have gotten tricked or trapped into wearing these devices of evil and are forced to be thralls to these sorcerers.
This brings us to the story of a girl and a chastity belt. The beautiful girl walks in the room looking at the chastity belt in the room. She finds the belt entrancing, and being kinky herself, she takes off her clothes, slides her red panties off her porcelain body and takes the belt, awaiting the metal embrace. She slides the belt up her legs to it's awaiting location. The metal kisses her womanhood as she gasps due to the coldness of it. With the belt firmly in place. She grabs the lock to it, and with a loud, audible click, she locks herself in the belt. She admires the steel panties on her, hugging her hips in an eternal embrace. It was like the chastity belt was made for her, and only her. The now chastised girl touches the metal shield covering her most intimate of places. Instead of feeling the satisfying feeling of pleasure, she gets the void of denial. Her sex has truly been locked in a cruel prison cell, with only the key keeping her from being in carnal bliss.
It was then that this beautiful, chastity belted damsel looked at the mysterious script next to the belt. She picks up the scroll and reads the title "Curse of Cold Steel." She reads of sorcerers, dark magic, BDSM, enslavement, and most curious, chastity belts and hexes. A little frightened, the girl remembers that she has the key to her metal panties. What she doesn't know is that it is part of the spell she is being cast into. She is reading a scroll designed to trap her as she reads it. The key will now no longer work on her new steel panties, she is at our mercy now as she activates her own curse.
Yes Cobie, I know you are confused right now. But what you have been reading was a magic scroll designed to trap you in the belt. The key you tested will no longer work. You have summoned the curse of cold steel and will be wearing the chastity belt for the rest of your life. You are now our thrall and will do our bidding. Perhaps we will use you to trick more girls into cursed chastity belts, or perhaps we will just tease and torment you for our own enjoyment. But for now, we will leave you to ponder your fate as a chastity slave and enjoy your attempts of escape.