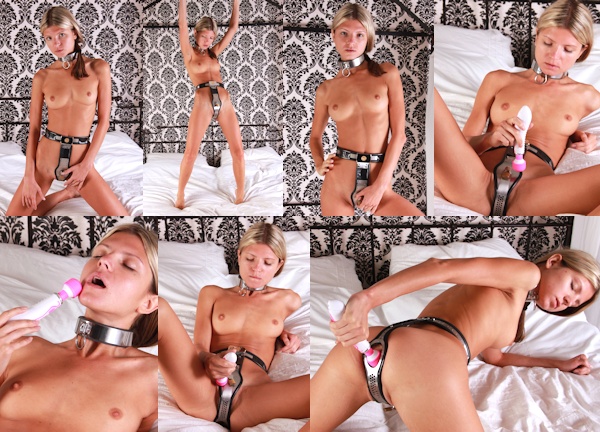 Most people know this teen adult star, but I bet you have never seen her like this!! The super cute and tiny Gina Gerson is a sexual animal. Just google her! She loves sex so much, she can not get enough of it. So I thought it would be very interesting to invite her over and lock her in a chastity belt, just to see what would happen.
Gina was a little overwhelmed by the metal locked onto her tiny body, she did not really seem to understand what it was for. She looked so hot though, in nothing but her chastity belt and collar! I gave her a small but powerful magic wand and told her to discover if she could get any pleasure from it. Gina really tried her best, vibrating the secondary shield (she felt nothing) and even inserting the magic wand into the anal opening of the belt. She got a little pleasure from that, but not nearly enough for her. Gina Gerson needs vibration on her clit to climax (preferably vaginal insertion as well), but there just was no way she could reach her favorite spot.
Such a cute sight to see her try! I think she should come back for a Chastity Deal, although she may explode after a few days, she never went more than 12 hours without sexual stimulation. I think it would be good to offer her a full chastity (belt, bra, thigh bands) Deal, with double plugs to keep her frustrated and some sporty tasks to keep her fit and remind her about those plugs.
Do you have any other favorite adult stars you wish to see in chastity? Just let me know!