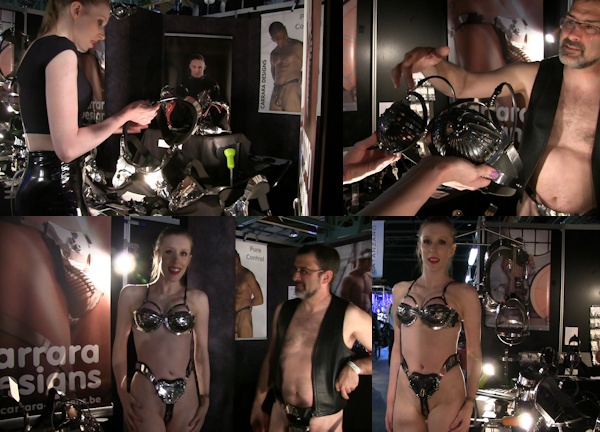 We were having a good time with the promo team at BoundCon Munich, when Cobie suddenly spotted the Carrara booth. She immediately fell in love with all the shiny steel on display!
After the girls finished handing out flyers, I took Cobie over to the Carrara booth to check out Walter's stuff. He really does an awesome job on designing these belts, there is really no other brand that is this good looking and comfortable to wear! Kindly enough, Walter was prepared to actually let Cobie wear one of his female belts, and he started to adjust it to her size! Meanwhile, Cobie also spotted a chastity bra which she wanted to try on as well! She is so into chastity, what a girl!
After a lot of adjusting and measuring, the bra and belt were ready for Cobie! She just looked STUNNING! So shiny and secure! I couldn't believe it! I really need to get more Carrara gear (the ones I had in my studio were on loan so I want to buy some for this website in the future). The bra Cobie was wearing was a bit too small (in cup size) so her boobs were a bit squashed. Fortunately, Walter had a bigger cup size bra as well, and he even went through the trouble of adjusting that one for Cobie too! Such great service!
We went to the nearest booth that had a mirror, so Cobie could get a better look at the fit, and we sure got a lot of attention and photographers asking for pictures! So stunning! Of course, it is quite expensive, but me and Cobie felt really sorry that it was only for a brief fitting. Fortunately, Walter told her to go have a walk around (he had the keys anyway), so we off we went to show this awesome gear to all of our friends (and lots of unsuspecting visitors)!!