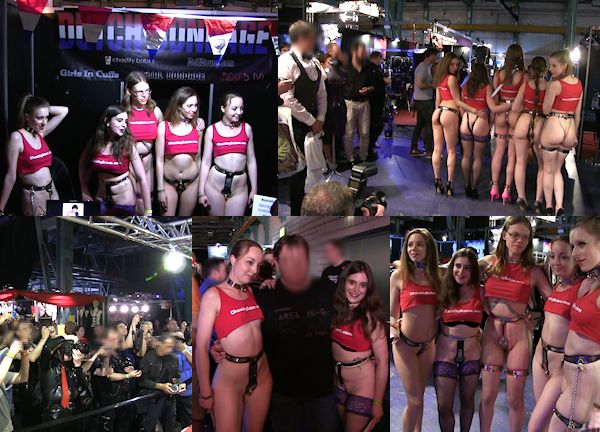 We are back from BoundCon Munich! Cobie and Pling are now in Holland, doing their Chastity Deals this week, and we are all very tired, but it was so much fun!! I really hope you made it there to witness the biggest international ChastityBabes.com promo team ever!
I had only planned on having 3 promo girls in the booth (and walking around, handing out flyers), but somehow we ended up with a promo team of FIVE! Cobie (from Australia), Pling (from Sweden) and Lizanne (from Belgium) had all agreed to be there, in their belts and little pink crop tops, so that was already going to be the most awesome team ever. Then I met a little eager girl in the hotel bar who was wearing a Tollyboy chastity belt. Of course, I immediately recruited her (LittleRedGirl from the UK) to be on the team the next day! I was so glad I brought extra tops! And then, on the Saturday, WendyWarrior showed up in her pink full chastity gear. Of course, I gave her a t-shirt as well, so she could join the promo team to represent France!
Five nationalities, five girls in chastity belts and ChastityBabes.com promo shirts handing out flyers. The convention visitors were stunned! We were surrounded by a crowd of photographers, and it was very hard to get anywhere, because everyone wanted to get a glimpse of the girls! BoundCon is very big on rope bondage, but chastity belts are new to most people, and it is definitely not something you get to see very often!
It was a huge success, and we received a lot of positive feedback! If you were there and you took any pictures of the girls, please share them (if you don't know how, please email me!). There will be more BoundCon madness on this website soon, we did some other interesting things at the convention too!