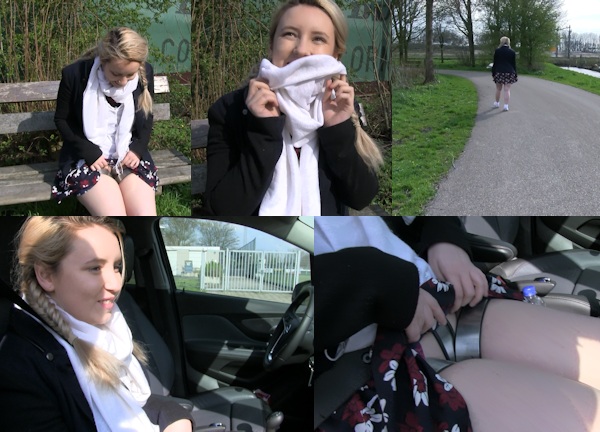 This Chastity Deal with Vina is so nice, she is in good spirits, even if she has been locked in the most metal ever! Collar, belt, bra, and thigh bands! She is so cute, and a little afraid that people will hear the noise of the thigh bands.
They are indeed very noisy, because of two things: the chains that attach them to the belt have extra bits dangling from them (because Vina is quite short), and the big padlock locking her thighs together also makes a lot of noise. Every step is a rattle, like she is shaking something under her clothes. But would anyone know what this rattling-swishy sound is?
There were many people around as the sun was out for the first time this year in Holland. But no one seemed to care about this little girl with the short dress and the big scarf. I always say: the only people who know what this sound is, are probably into chastity themselves. So there is not really any risk of getting noticed, except when I asked Vina to lift her dress or lower her scarf.
Vina is so impossibly cute, you just have to see this video! She was very excited, and even more so after we returned from our walk! For her, it is quite a daring thing to do, keep that in mind! Enjoy!