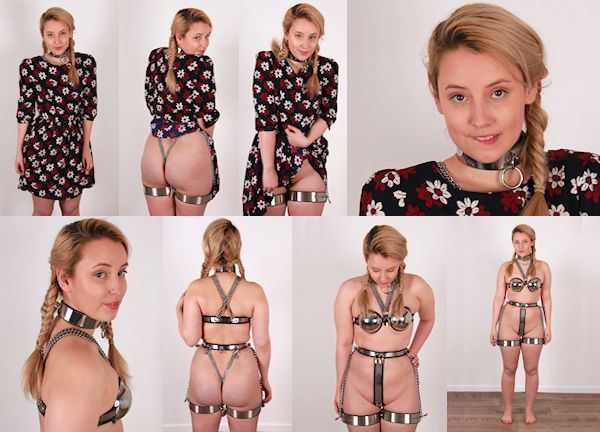 Yaay, our tiny friend Vina was back again in Holland for a few days, and she was eager to make some money by doing another Chastity Deal! No time was wasted fitting her into tight full chastity, because I figured this time she should have an even bigger challenge than last time!
Little Vina is still cute and shy, and she was not entirely sure about all this metal on her body! It was indeed very tight, and she knew from her previous Deals that she would have to sleep in all of this. Sleeping in a bra can be difficult, which makes you more tired and grumpy every day of the Deal, and that can eventually lead to a premature end to the whole adventure. Which would mean: no money and all effort for nothing (except the delight of the members, who get to see you suffer).
Also, her thigh bands were locked together, making lots of noise and Vina knew she had to go outside in this outfit too! She would have to climb stairs, sit in a car, walk around. It was not going to be easy! But you know Vina (if you have been a member before): she is super tough, and will never complain. You could practically do anything you want to Vina and she would just accept it. She loves challenges, and she is never scared or overwhelmed. She is just Vina, and you are probably as happy to see her back as I am!! Enjoy!