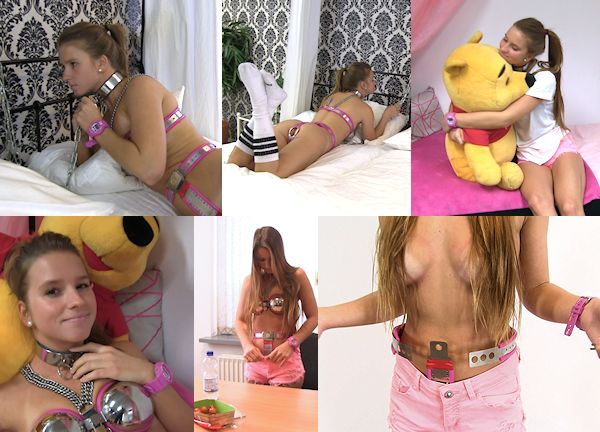 Jessica's first Chastity Deal went rather well! She loves pink so she got pink bra and belt linings, and a small padded collar just because I love cute girls and collars.
Maybe it wasn't fair that she really needed the money, which meant she would not complain even if I added a few little touches to the Deal. Like a pair of pink handcuffs, which Jessica loved at first, but hated already after 10 minutes. Or a chain and 2 padlocks, when I told her to chain her collar to the bed. Jessica really did not like the white bedroom. She could not even sleep in that room. Maybe because she was chained to the bed, I don't know, but it just did not work.
The pink room, however, was Jessica's favorite! The large Pooh-bear made her feel more comfortable, and she napped in there whenever she could. She did not eat or drink much, afraid her belly would expand, and the belt would get even tighter. Just some small tomatoes and some water. These Chastity Deals are actually very healthy! Another reason all girls should wear chastity belts!
Jessica changed a little over the course of the Deal, she became less shy and also a little less cute (because the chastity gear was a little uncomfortable, and getting used to it changed her expression). But I would always ask her if she was ok, if she wanted out, because she could be unlocked at any time she wanted. But she kept going! Maybe she is too young to do this (19 years old), but she was as brave as any other girl before her, and she made it! I'm not sure if she will ever do it again, but we all know economic situations can make a Chastity Deal seem very attractive!