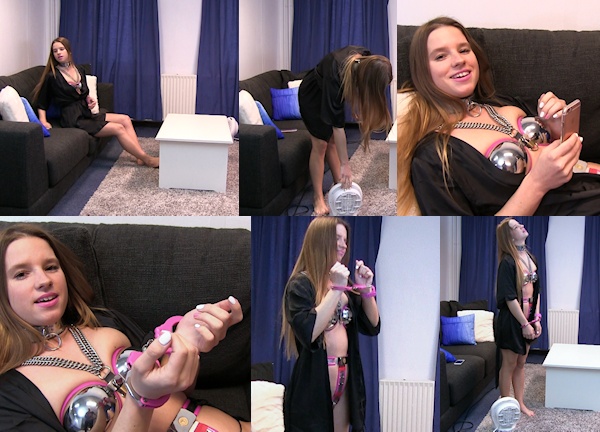 Jessica is so cute, I almost felt sorry for her. She is very young, and she did not know what she was getting herself into. But she bravely accepted the fact that she was belted for 48 hours, because she desperately needed the money.
Locked in a pink bra and belt, and a nice shiny collar too, Jessica started the long wait in the living room of the new apartment. This new place has got some static camera's and a couch and tv, but not much more than that, so it is very boring. And unfortunately, a bit cold too. Jessica went in search of an extension cord to move the electric heating closer to the couch, very clever! With her phone and the little heater, she settled in to spend a few hours of lounging.
Until I came in (this guy again) with my camera, asking her lots of questions (first time you will hear Jessica speak, and yes, she sounds as cute as you would expect). I brought a little surprise for her, because she loves pink so much: pink handcuffs!! I told her she had to lock these on her wrists and spend some time in them, maybe even sleep in them. I don't know if Jessica really understood what that meant (for example, she could not even take her dressing gown off anymore), but she happily and curiously locked herself into the handcuffs.
She is just so sweet! These 48 hours were a test for Jessica, but also for me… trying not to let her out because of her pleading eyes and quiet suffering. I was in doubt: isn't she too nice to be locked in cruel metal? I did stay strong, and she remained locked up, stay tuned for more of Jessica's Deal!