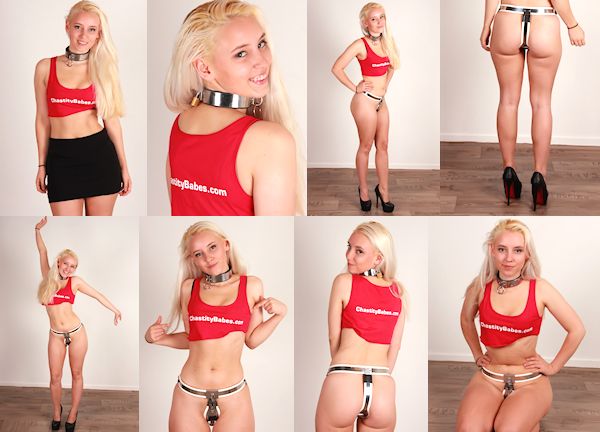 The big bondage convention BoundCon in Vienna is next month already! It will be huge, and a lot of fun! ChastityBabes.com will be there with a promo team of 4 models! Well, that is if I can get everything arranged, there is so much work to do still!
When Vina was here, a test print of the crop top I had made for the convention came in. And since she was here for 7 days anyway, I decided to use her as a test model for my promo shirt. What do you think? The shirt is actually pink, but for some reason it came out pretty red in the pictures and video. It is very short, to show off the promo girls' chastity belts, all 4 will be wearing a different belt from a different brand!
I really hope to meet some of you in Vienna. You can take pictures of the girls and they will give you a ChastityBabes.com flyer! I can't tell you who the models will be yet (it is a big surprise), but sadly Vina won't be one of them. She looks great in heels, chastity belt and crop top, which will be the outfit for all 4 models. If you can not make it to BoundCon Vienna, don't worry, I will film and photograph the promo team and put it all online for you (members) to see!