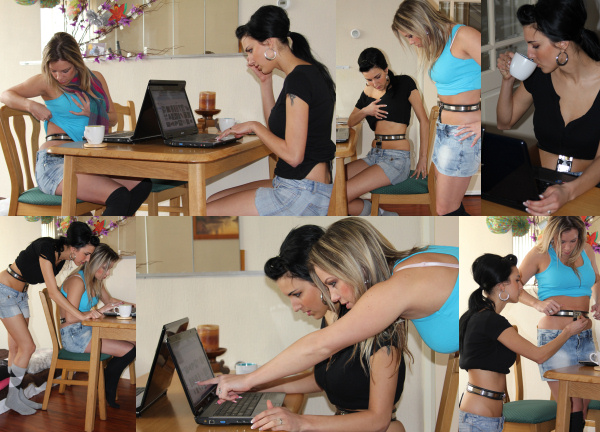 The 24 hours in chastity continue for the lovely sisters. After breakfast and getting dressed, they decide to grab their laptops (these girls are internet addicts) and look up some information about chastity belts. Actually, they were probably looking for ways to open the belt, but they just stumbled on some pictures and a few historical websites.
Meanwhile, blonde little Jessy is really uncomfortable in her belt. It is really tight on her waist, and she has trouble sitting down. A few times it looks likes she will start to cry, but soon after she is smiling again. The psychological effect of wearing a chastity belt is really starting to kick in now.
Her sister Regina is more comfortable. She even wears shorts instead of a skirt, and she clearly has less difficulty sitting down. Regina is really interested in the websites about the history of chastity belts and it seems she is getting used to the belt really fast.
After a short while, the duo discovers a picture of a male chastity belt, to much hilarity, they had not even realised men can be in chastity too. It makes their morning a little better, but they are still not finished with their challenge. They really want to take a shower, but they are not sure if they can wash themselves properly…