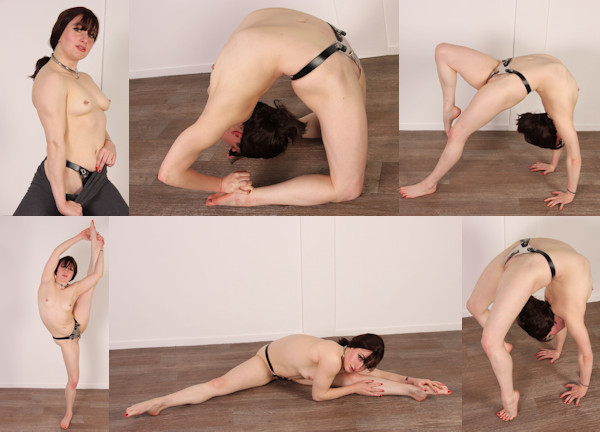 Sometimes I get a message on my Fetlife profile from a girl wishing to try chastity. There are a quite a few Castings on here with girls from that website. But most of them (of course) want to try it without a shoot for publication, and that's fine too. All girls (and even couples) are welcome to try chastity for a few hours in my studio!
But Abi was different. She said she already owns a belt. And she is a professional contortionist. I was curious, to say the least! Of course, I invited her over for a shoot. Abi told me a rigid belt was not an option for her, so she had gone and bought a hybrid belt, which is more flexible. I'm usually not a big fan of hybrid belts, but I definitely was intrigued about the contortionism and chastity belts combination.
Abi is amazing! She can bend her body in impossible ways and she gave me a very nice demonstration of her usual workout routine. All this wearing a belt! Even better, Abi wears her own slave collar too, as she is in a D/s relationship. It was a very fun and interesting day. We also shot this, which was even more incredible. Go check that out if you haven't seen it.