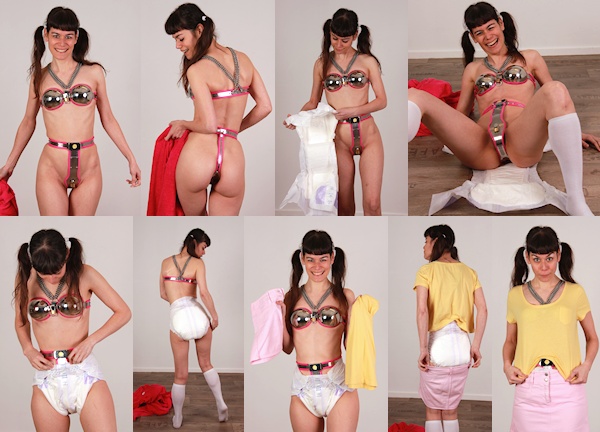 So many girls are emailing me now to get a Chastity Deal! It's hard to schedule all of them, arrange flights, and especially accommodation for all these curious girls and women! So sometimes I secretly give priority to local girls, it's much easier to arrange all of the logistics!
When I received an email from Emma, I knew that she would be perfect for a 48-hour Deal! Emma is an adult baby, she loves to wear diapers and cute clothing in real life (every day) and she wanted to try chastity! Specifically, she wanted to try PINK chastity (of course). And since there have been numerous member requests to see a Chastity Babe in diapers, this would be the perfect opportunity to film and photograph a small Deal with Babygirl Emma!
Her English is perfect, no subtitles needed, and Emma is indeed very cute and energetic! She can explain everything very well, so it is easy to understand what is going on in her mind! I locked her into tight pink full chastity, as I imagined babygirls aren't allowed to touch any private parts, and Emma was super excited! She knew it was possible to use the toilet in a chastity belt, but it would be hard (the perforated secondary shield is not ideal, and can be a little messy when you are inexperienced). So a diaper would be perfect to catch any accidents and it looks great too!
Since Emma is used to wearing diapers every day, the chastity belt didn't take much getting used to. It was just an extra layer for her. The chastity bra was a little harder, but Emma just loves pink so much that she decided to go through with this Deal, no matter what. I had no doubt that she would make it, she is very determined, funny, and naughty! She needs to be locked up much longer than 48 hours, maybe even permanently!