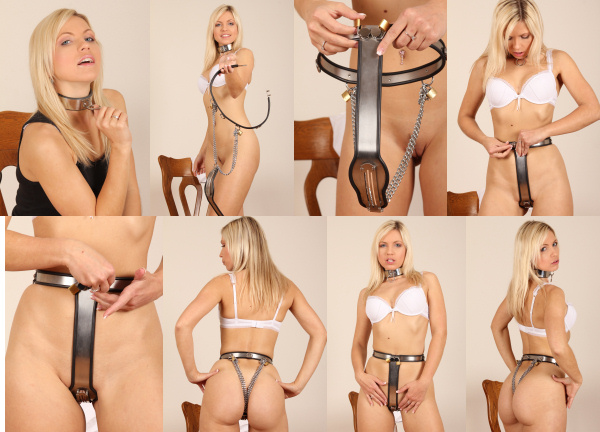 Jenni C, one of the most beautiful and friendly girls on the planet, was very interested to learn that we had created a website where girls wear chastity belts without any bondage. She has always been intrigued by the idea of 'protection' as she calls it, and she has worn a belt a few times on MetalBondage.com.
This is also the introduction of our modified chain style belt, you can read all about the belt on our Chastity Belts page. The main features are the chain rear section, the D-rings for various attachments like thigh bands and the double padlocks, to allow for dual keyholders! Jenni will show you all details, including the matching collar!
There has been some discussion about whether a girl should lock a belt on herself. Some members like it, some don't. Well, Jenni is going to lock herself into this one (she does not have the keys anyway), just to show you how beautiful that can be, and believe us… she is stunning.
The belt is nice and tight on her, showing off her beautiful round ass and trapping her labia in the front shield. Please read about the belt on the Chastity Belts page before commenting on the chains between her buttocks ;-)