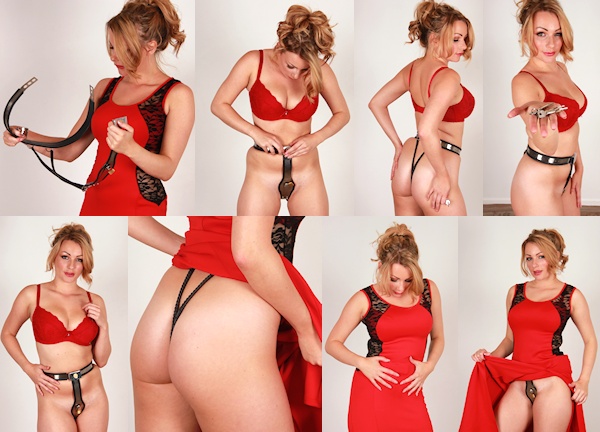 Here's a very interesting way of casting new babes for this website: one of you suggested on Twitter that I should get well-known UK glamour star Penny Lee over to Holland for a Casting! Penny saw this tweet and she was very curious! She contacted me, and I invited her over! Easy as that! So remember that if you want to see the girl of your dreams on this website! Just give her a slight hint!
Penny showed up in a gorgeous gown, and she was very nice to work with! She was asking lots of questions about the chastity belt, and what it would mean if you (the members) want to see her back for a Chastity Deal! I told her the Deal would probably be for 7 days in this belt (a chain style belt for a change), and she was very enthusiastic about making some money wearing this belt! She said 'I hope the members want to see me locked in this tight belt for a whole week!'.
Penny looked absolutely stunning in this type of belt, it is more elegant at the front and the back chains are covered in rubber so they are very comfortable. Unfortunately it isn't possible to wear this 24/7, so she would need toilet breaks OR I will just lock her in a rigid style belt (which is probably a better idea).
Let me (or Penny) know whether you want to see her back for a Chastity Deal! At least you can now watch her Casting, which I am sure will make at least 1 member very happy!! His favourite glamour model in a tight chastity belt! Dreams come true!