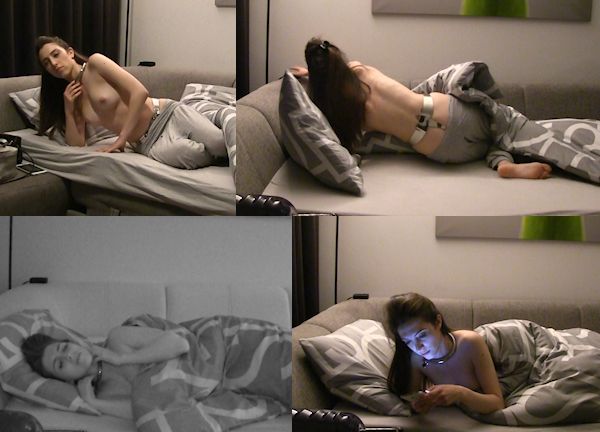 The ultra thick solid round slave collar. It is very heavy, weighing in at 666 grams (1.47lbs if I converted that correcly), and it is locked onto Donna with the same padlock that is on her belt. She would only need 1 little key to free herself, but she doesn't have this key. And she is worried.
Her first night under the new regime. No toilet break during the night. A different belt. But the worst of all (for Donna) is the super heavy collar. The loose O-ring clanks around as she prepares herself for bed. Donna always needs a few nights to get used again in Amsterdam, so she did not expect to get much sleep. But with this collar… how will she get ANY sleep? Is it possible for a human being to get used to such a heavy locked-on item? I guess we will find out in the next days.
Watch this video clip to see Donna struggle with the new gear. She is clearly not settled in yet, lights off, lights on, checking her phone… the number one Chastity Babe is back in Amsterdam, but this time things are different. Donna still looks awesome though, and she is very positive about interviews and the cameras this year! We should get some nice insights and great footage of a cheerful (sometimes even silly) Donna as time goes by, and maybe even a few fan meetings or shoots! Donna has only just started her Chastity Deal, anything can happen!