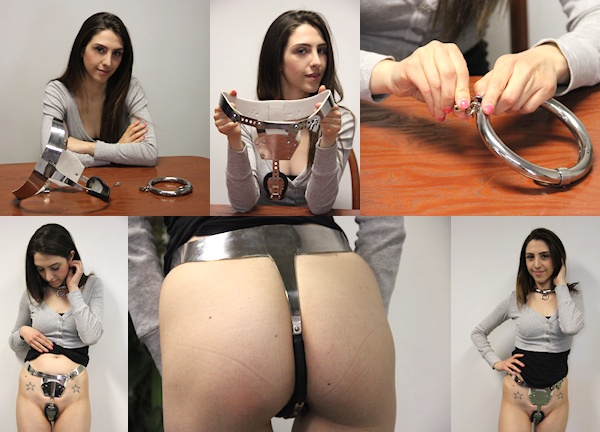 It almost didn't happen, but our favorite Chastity Babe is back in Holland for her yearly 30-day Deal!! Her health is not as it should be, but she was determined to come to Amsterdam again! After a lot of trouble, she is finally here, and I hope you are as thrilled as I am!
Even though she was very tired from the flight, I did not waste any time and sat her down for a quick interview and her first glance at the gear she would be locked into! Donna was intrigued by the new style belt, a Carrara design that has been custom made for her tiny body. The belt is very light weight, and the incredible shape means there will be no pressure on her hips (her main discomfort last year). The belt has some disadvantages too, it doesn't have an anal opening and is harder to clean, but this year there will be a different regime, allowing for more cleaning breaks and hygiene. Also, there's always Donna's custom red My-Steel if things don't work out.
Donna's main concern is not the belt, she can handle any chastity belt for 30 days, no problem. She was a little scared by the round slave collar that was waiting for her next to the belt. This triple weight slave collar ('collar of O') was funded and requested by a very generous fan. It weighs a hefty 666 grams, which is a lot for such a tiny girl. It was custom made and it is truly one of a kind. It will probably take Donna a few days to get used to this weight. She also thought it was really cold, but that will of course quickly be solved by wearing it.
Donna locked herself in both items, and I grabbed the keys. Our number 1 Chastity Babe is back again and she looks awesome in her new gear! On to new adventures!!