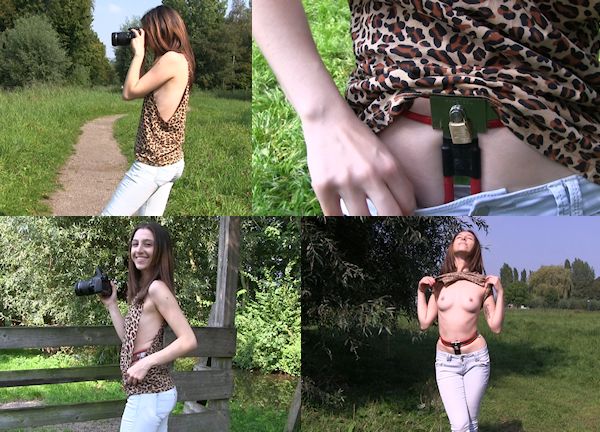 Let's take a little break from Jade Indica's adventure today, I wanted to remind you that our number 1 Chastity Babe is almost here! Admittedly, Donna is a little strange, returning to Amsterdam year after year to be locked in a chastity belt, but returning to Italy every winter because it is too cold for her in Holland!
I just want to make clear that Donna has always contacted me about coming back (I never contact her or push her), and she is always free to leave at any moment, although she will have to leave the apartment and her free food and drinks if she wants out of her chastity belt. The belt never seems to bother her that much! To her, no self stimulation or sex is a small price to pay for a solution to the financial problems in her home country. Granted, the first year she was here (in 2012 her pink belt), she barely made it and she felt quite uncomfortable about hygiene, cameras, and the steel belt on her hips, but in 2014 she overstayed her initial 30-day contract by 140 days!! I wonder how long she will stay here this time!
I have a great new belt style waiting for her, it is lightweight and will not hurt her hips as much as the My-Steel. There is also a slave collar, as requested by many members, custom made and quite heavy! She will have to wear it all the time, just like the belt. A bra will probably be added if she can not behave (Donna often self stimulates by touching her boobs), but it is very hard for her to sleep in a chastity bra. We will see how it goes!
In the mean time, enjoy this cheerful update that was never published last year: Donna started to be interested in photography, one day she took my camera and went on a field trip, and I followed her around. This update will also be available for download on Donna's Blog if you want to support her directly (but without the bonus boob flash, because her blog uses Paypal). I hope you are just as excited as I am for Donna's return!