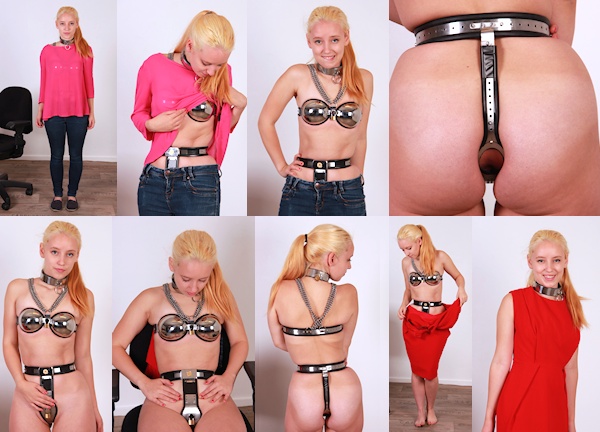 As promised, here is the original Casting that came before Vina's MetalBondage.com shoot and her Plug Challenge. I don't think any of you would believe me if I said that Vina actually emailed ME about spending time in chastity, but hopefully there will soon be an opportunity to ask her herself. I did not contact her. She sent a very shy email about her secret wish to spend a long time in chastity and metal bondage. I had to slow her down a little because she wanted to come over for a few months!
As much as I like to host girls in Amsterdam, in exchange for being locked in metal and chastity gear, it is probably better to do a short Casting with them to find out if they really want to do this. With Vina, there was no doubt! She is a pure submissive, and after this Casting, she did a shoot for MetalBondage.com, and then spent the rest of the weekend in her super tight chastity belt (voluntarily adding an anal plug!!). I was sad she had to fly back to the UK after only a few days (19-year old girls tend to have to go to school), and yes… in this case I would have loved to keep her in Holland for a few more weeks.
The only thing we can hope for is that Vina will be back soon! Her tight chastity gear (the smallest ever!) is still waiting for her return, and there are many more challenges for her to try! Double plugs come to mind… plus whatever you (the members) can come up with for this cute tiny sub! Don't hold back, Vina will love reading your suggestions, the more challenging the better, and it will hopefully make her come back sooner!