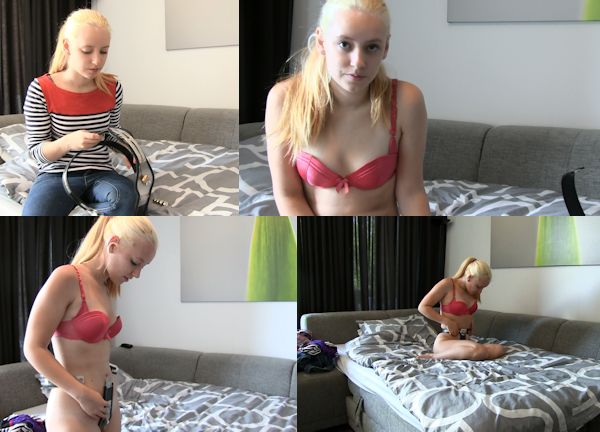 Little 18-year old Vina from the UK wrote me a very sweet and funny email. She was so curious to try a chastity belt, she couldn't wait any longer, she just HAD to come over to Amsterdam and stay in the famous apartment!
Vina is possibly the most shy and submissive girl ever! However, she knows what she wants, and she wants to try it all! She is very tiny, and she speaks in a very soft voice. Her looks remind me of blonde Donna (the first time Donna came over to Holland). I had to resize a belt to some super small settings to make it unbelievably tight on Vina's body. She wanted the belt to be as tight as possible.
Vina also wanted to try locking in a 4-ball steel plug. I gave her a choice: the plug was detached from the belt when she arrived, so she could choose to put it in the anal or vaginal position. I won't give away her choice here, members can watch the video clip and see Vina's naughty eyes whens she is playing with the plug to make her decision. You'll love how she looks up at the camera, almost embarrased about her choice.
The funniest part about Vina is: all she really wanted to do is study. She had a lot of essays to write and textbooks to read! She thought it would be nice to have a quiet apartment, and no sexual distractions (having read that a chastity belt heightens mental focus and concentration). It was brilliant having her over, in a super tight belt, watching her study… knowing that there is a large metal plug locked inside her!
Vina loves to give away control, having other people make decisions for her. It is incredible to find new girls like this! I have a feeling Vina will be very popular with the members, she thoroughly enjoys being belted and plugged! I really want to get her over for a longer Chastity Deal, so I hope you will request for her to come back. Watch the video and let me know in the comments!