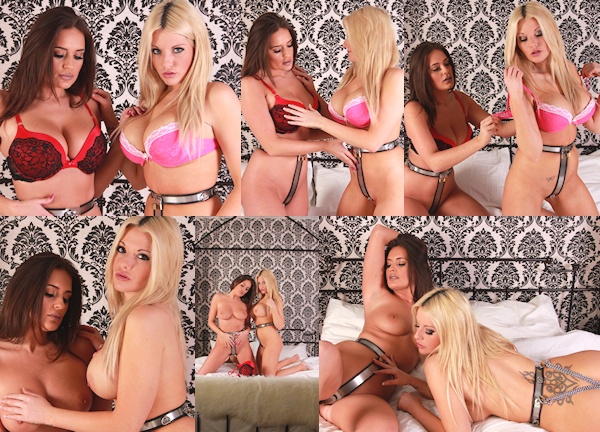 So you wanted me to get Emma Green back after her Casting! She was a bit scared by all the commenters that would love to fill her up with plugs, but I managed to get this famous Page 3 girl to come over again! Not for a 3 day Chastity Deal (yet), but she said she had a very close friend who wanted to do a shoot with her. This friend is also called Emma!
Emma and Emma wanted to do a romantic fantasy shoot for you (fans and members)! They don't usually shoot any girl-girl scenes, but that's why they wanted to do it on ChastityBabes.com, they knew the belts would stop them from going too far in case they got too excited. And I think they did get excited! Well, can you blame them? Emma C has even got bigger boobs than Emma Green, and this new blonde Emma is incredibly hot! No wonder Emma Green couldn't resist touching her! These Emmas have known eachother for a long time, and you can tell! They sensually take off each other's bras so they can play around with those 4 incredible boobs, and in a dream-like setting on a canopy bed, they soon got carried away.
They probably regretted doing this on ChastityBabes.com, because once they got in the mood, their chain style belts were definitely frustrating them! But in hindsight, nothing happened that they wouldn't want to have published, so it's all good. I would love to get more opportunities to shoot both of these Emmas (maybe separately), they are amazing! Maybe I should just move to the UK, so many great models there!
Enjoy this romantic Double Emma update, it is really a dream come true!