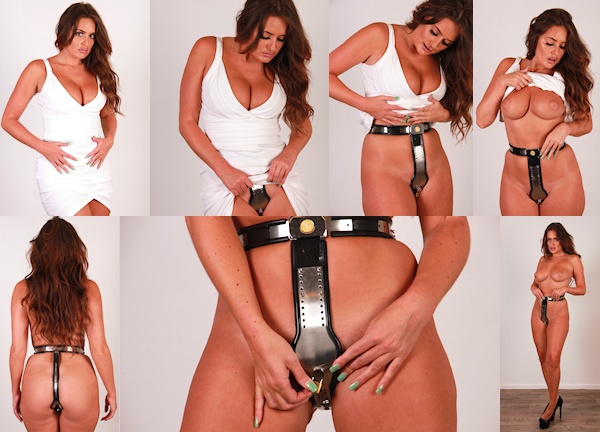 Belting famous UK glamour star Hannah Claydon (or at least trying to keep her belted) was amazing. I couldn't believe I pulled that off. It made me believe I could just ask anyone!! So I did.
When I saw the twitter account of Emma Green, UK page 3 model and big boobed glamour star, I just asked her how she would feel about wearing a chastity belt. Amazingly, she was very interested in my offer!! I asked her to come over for a Casting session, just to try a belt, and to make her case for you (the members).
Emma Green looks stunning in her white dress, but even better when she takes it off to reveal the rigid style chastity belt! This was just a Casting session, but I told her she ask YOU if she can come back for a 3-day Chastity Deal later this year. So please watch the video clip to hear Emma Green explain why you should invite her back! She even got a little nervous about it! I think she was very excited, it was a new experience for her. I'm curious if this glamour star can make it through a 3-day Deal! We all know Hannah Claydon couldn't (she tried, bless her), but maybe Emma will be the first UK glamour model to complete a Deal!!
Do you want her back? Comment below!