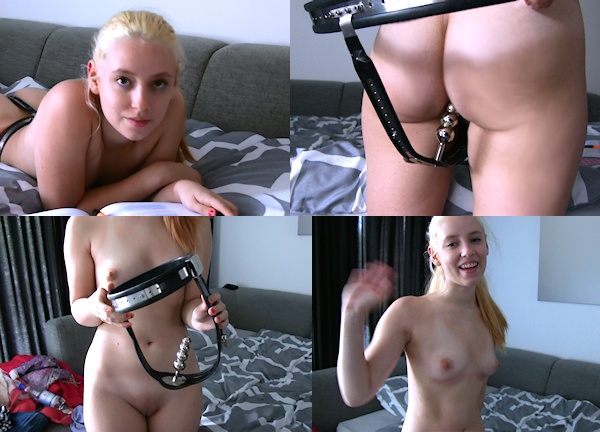 Aaaaaw it is such a shame I had to give the keys to Vina eventually… But you can't wear an anal plug forever, sadly enough. Vina is such a lively wide-eyed curious young girl, just watching this video, her soft shy voice, her smile, her waving goodbye, will cheer you up for sure!!
I did not leave her for 8 hours, I came back after only a few, and found her on her bed, completely naked and trying to study. I asked her why she had taken off all of her clothes, Vina simply replied 'I was hot'. Fair enough :) The tiny 18-year old looked at me, full of expectations. If I would have told her she would remain locked for a few more hours, she would have accepted it – Vina is a pure submissive. But I could sense the pressure on her hips was too much, and I have to agree: this belt was as tight as it could be. That's great for pushing in the anal plug very deep, but the pressure on her hip bones was hurting her, and it is not the goal of this website to hurt girls.
I gave Vina the keys, very reluctantly, I wish I could have kept her locked forever, but she was only over for a short stay (a test, which she passed beyond expectations). She was very relieved to be able to open her chastity belt and take the pressure off. The anal plug came out quite easily, at which point we both realised how big it was compared to Vina's body size. The plug must have been in her so deep, the largest ball stretching her quite a bit, and she did not complain about this even once!
When I asked her if she would like to come back soon for a Chastity Deal (perhaps with 2 plugs?), she just smiled and whispered 'maybe'… but look at her eyes when she says this… she would love to come back! You can tell Vina is in her experimenting phase, she would actually breeze through a 2-plug Chastity Deal if I get her an ergonomic waist belt. This girl is amazing, simple as that. Let's hope she will return soon, because there's just no one else who is so cute, submissive, and dedicated as Vina! Please leave your comments below, she has been reading them since I started publishing her Challenge! If you want her back, now is the time to say so!!