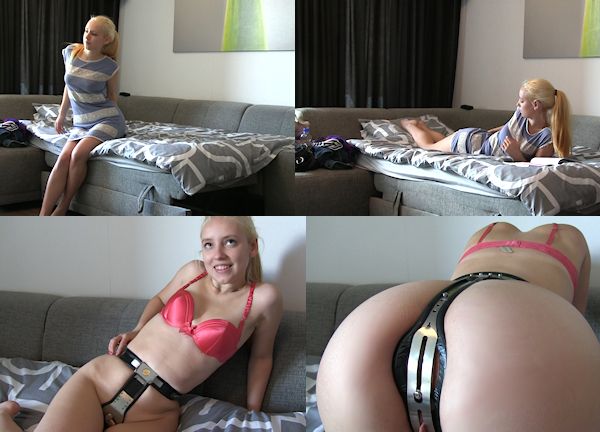 So little Vina decided to place the plug in the rear slot of the belt. This meant I couldn't keep her in the belt for long, but 8 hours would be a great start (after already shooting a lot in an unplugged belt in the morning).
She just wanted to be left alone with her textbooks, and I left the apartment with her keys, not long after locking her in her tiny tight belt. The static camera caught her moments of awkwardness, as she was constantly reminded of the steel anal plug… when sitting down, when lying down to study… the plug remained rigid inside her as her belt pulled down on her hipbones. An anal plug can not slide as much as a vaginal one, nor does it need to. She tried to move it with her fingers, trying to push the belt up, but it was too tight. Her labia were protruding through the empty front shield slot as she tried to wiggle the plug.
I returned after a short while, concerned about my youngest Chastity Babe, to check if she was still alright. Vina is so shy, I decided to do something I have never done before: I would talk to her on camera! She really needed help to tell us about her situation, and she is so submissive and soft-spoken I nearly had to drag all the answers out of her! So cute! You won't believe this video until you have watched it till the end. And you will want to watch it again!
The tightness of the belt (which SHE had requested mind you, she even made me tighten it a few times during the fitting) was taking its toll on her hip bones. She didn't seem to mind the plug at all, but she couldn't get used to the pressure. I told her she was out of luck… and that I would leave her to her studies for 8 hours… (I didn't really stay away for 8 hours, don't worry, but the look on her face was priceless!). Don't miss this video! You will LOVE it!