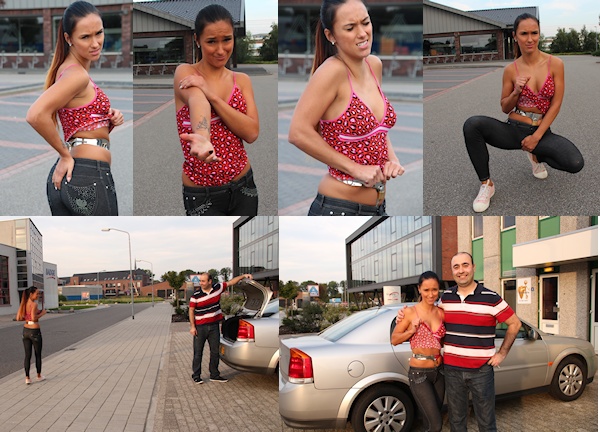 Yep, Victoria Sweet was in big trouble! She had belted herself in a FancySteel belt, and she would only receive the key if she would go outside, show the belt to a member of the public and get her picture taken with him/her!!
Although the belt was pretty comfortable and well fitted, Victoria kept fighting the belt during her walk outside. She wanted to get the key as quickly as possible, but she wasn't very lucky that day. We went to a supermarket, but it was closed! There was absolutely no one around, only a few people passing in their cars. Victoria wasn't even looking for people anyway, she just kept begging for the keys, and when I said no, she tried to break the belt (like she always does). Luckily, these FancySteel belts are pretty solid and they can withstand a very agressive girl with ease.
I had to make it clear again: the only way out was to get her picture taken with someone. But we just could not find any people around the area where I had taken her! Finally, when we were walking all the way back to the studio, we spotted a guy loading something in the trunk of his car. He had his eye on Victoria even before she lifted her shirt to flash her chastity belt. This grinning dude would be perfect, and Victoria knew it. She passed him at first, allowing him to take a good look at the belt, then approached him to ask if he would pose for a quick picture with her. I bet you all wished you had been there that day, this sure was a lucky guy! I promised him to send him the picture as well, and we went off to the warm studio again. Nice work Victoria!! It is a tiny step in getting female chastity accepted by the general public, but every little bit helps!