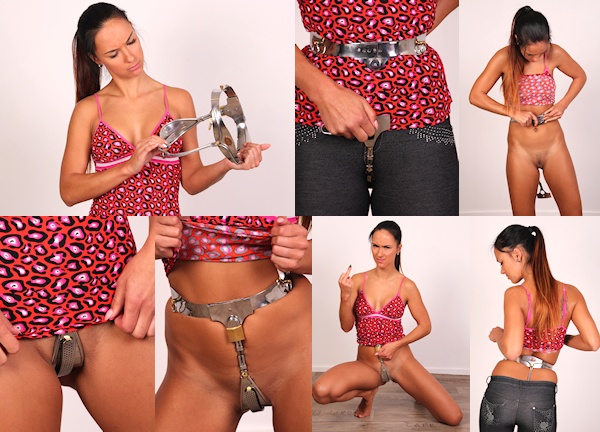 Remember our top belt fighter Victoria Sweet? She looks very cute (and even her name is very innocent), but she is probably the most agressive girl on the website! As soon as the lock snaps shut, Victoria changes into some kind of Hulk, trying to get the belt off with all her might, using every method she can think of!
She often ends up sulking and giving me the finger (classic Victoria Sweet), and it is even dangerous to approach her when she is in a chastity belt (or in bondage!). Still, she is like all girls, she needs cash for her fancy clothes and huge phone bill! So I made her an unusual proposal. Victoria will have to lock herself into a FancySteel chastity belt, go outside and show the belt to at least one member of the public and take a picture with him/her showing her belt!
In this update, you will see Victoria reluctantly belting herself. She was amazed, seeing a FancySteel belt for the first time in her life. It was a good fit on her, the waist was nice and tight. She tried to cheat by putting it on over her clothes (to be fair, that wasn't in the contract, so she was right to try that), but the crotch part did not fit, because the wire needs to go between her butt cheeks.
And what perfect butt cheeks she has by the way!! Victoria Sweet has an incredible body, and she looks so cute in a chastity belt! If not for all the agression, she would be a perfect chastity babe. Anyway, she will have to go outside and show the belt to someone. Until she does, she will not get the key back! Will Victoria overcome her anger and shame? Find out on Friday!!