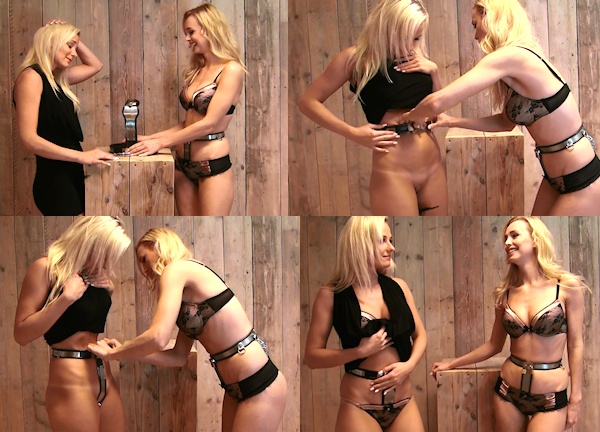 Dominique is my website assistant for at least a month! She is staying in Holland, helping me out with studio things and she is a wonderful hostess to new girls! Over the past week, not a lot happened (what with New Year and all), so I asked her: if you could choose any girl from the Babes page, anyone at all, to fly over and keep you company, who would you pick?
Without hesitating, Dominique said 'Misha!'. Of course, a fellow Czech girl and a very sweet shy gorgeous one even! The only problem was: Misha had told me she would NEVER wear a chastity belt again, after her amazing 10-day Chastity Deal with her boyfriend, over a year ago. Still, I invited her over, and we didn't talk about chastity for a few days. The girls went out shopping (Misha unbelted, Dominique in her belt of course), we did some random shoots, and they became closer and closer. They even bought matching lingerie together.
I felt it was time for Dominique to try her first belting as the official ChastityBabes.com assistant. Misha knew what was going on of course, but she was slowly getting into it again, thanks to the very funny and playful ways of Dominique, and the fact that she saw Dominique wearing her belt with so much ease. It was time to get Misha locked up for a few days at least, something that would be very hard for the poor little blonde girl. Again.
Watch this video of how Dominique handles her friend, and talks her into trying on a belt again. She then casually throws away the keys, making clear that Misha is back in the belt for some time. At this point Misha still thought it was all a joke, but stay tuned for some tender, stressful, and funny moments with this gorgeous duo!!
English subtitles are included in the member download!