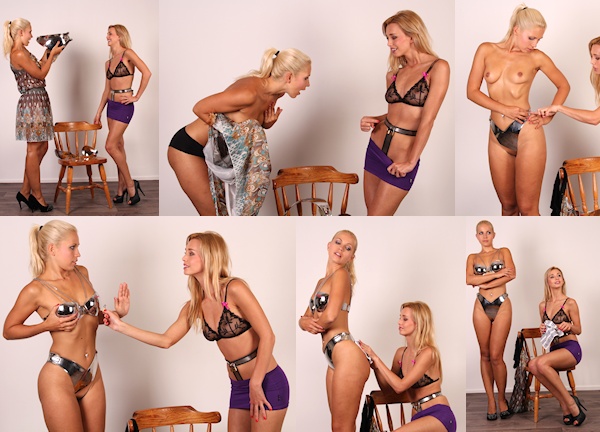 What could be better than locking a Chastity Babe in a belt? Well, how about having one Chastity Babe locking up another Chastity Babe? In a rare Latowski belt! That's right, we have now officially hired Dominique to be our shoot assistant. She is locked in her chain style chastity belt 24/7, and the keys are kept by Francis (her mom). Of course, we don't believe that Dominique is really in the belt all the time, but even if she isn't, she has been locked in it for months and months in the past 2 years, which makes her our most experienced Chastity Babe!
The funniest part of this update is probably the look on Jenni C's face when she wonders about Dominique's chastity belt. She walks in on the shoot and Dominique is already belted? Jenni can not believe how Dominique moves around in her belt and talks about it like it is the most normal thing in the world. To add to the surprise, Dominique has the Latowski female chastity belt and bra laid out for Jenni C!
After the superb fit on Natalia Forrest, we are curious what this outfit will look like on our other Chastity Babes, because it is not adjustable at all. Jenni C seems to be the obvious choice, she has a killer body that should be perfect! After some discussion with Dominique, Jenni reluctantly locks herself in the clam shell belt and the shapely bra. Dominique helps her with the bra padlock and even cleans the whole outfit to make it super shiny!
There are no keys (Francis has Dominique's keys, and we have the Latowksi keys), so the pair decides to go off to have a drink elsewhere in our building (they wanted to go out, but they changed their minds). Jenni C was in the Latowski outfit for a few hours, and Dominique… she came and left in her belt. We will try to find out more about her wearing schedule soon!