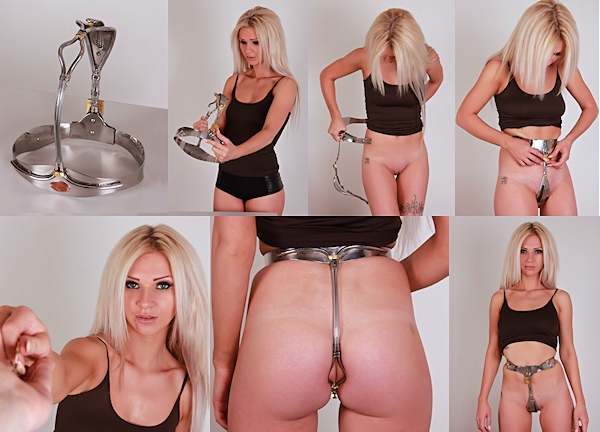 Many of you wanted to see the hot Scottish blonde Leah back in chastity. She did very well on her first Casting, although she seemed a little shy.
I needed someone to test the new FancySteel, so I invited Leah back! Of course, this new Australian chastity belt brand had already been tested by the lovely Cindy Dollar, but this time I added the rear opening plate to see if this belt could be suitable for a long term Chastity Deal.
The FancySteel belt is an easy to use bare metal belt (pvc lining is available as an option), so I let Leah belt herself after she was done wondering what device I had prepared for her on the little table. Leah is still a bit shy, and won't question anything she is told to do. She is very pretty, and she looks incredible in a chastity belt. She even hands over the keys without protesting, knowing she will only be unlocked if I decide it is time.
She was going to be locked in the FancySteel for at least 5 or 6 hours, enough for me to see how she moved around and if it is secure enough. We had a great afternoon drinking very black tea in the studio, and I even convinced her to take a nap in the studio bed. Check back tomorrow to see a bonus video clip of this wonderful blonde girl locked in bare metal! Leah is ready for a long Deal, I just hope you agree! Let me know in the comments, and I will draft Leah a contract she can't refuse!
Check back tomorrow for a bonus update with Leah in FancySteel!