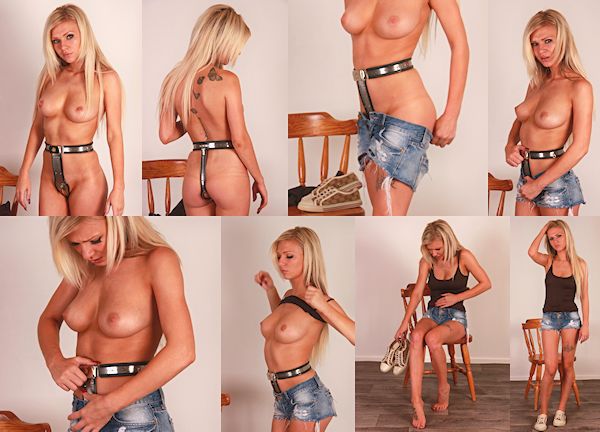 As we are receiving about 3 or 4 applications from girls every week, we are not having any problems adding more girls to the Chastity Babes page. This should give you a wide range of girls to choose from! If you are a member, don't hesitate to email us to request a Challenge or a Deal for any of your favorite Babes!
We know (of course) that most girls are only writing us to make some cash, but there's always something more to it. This week's girl, Leah, is a tiny gorgeous blonde girl from the UK who wrote us in a very hesitant way. It took months to get her to our studio, and she was very shy and nervous! She wanted to back out of this Casting shoot a few times, and we would have let her, but somehow she found the courage to go through with it.
We made her sign a contract to be locked for 6 hours (the shoot only took an hour or so), because we were afraid she would try to make up some excuse right after shooting. This was such a big step for her! It's incredible to see someone finding the courage to go through with something like this.
As far as we're concerned, Leah doesn't have any reason to be shy, she looks incredible in a chastity belt! After she puts on her cute shorts, top, and shoes, it's almost impossible to notice she is belted, she just looks like the innocent tiny Leah again! We would love to get her for a long term Deal, but it will take a lot of convincing! You can help, of course! If you want her back, please leave gentle and encouraging comments below!