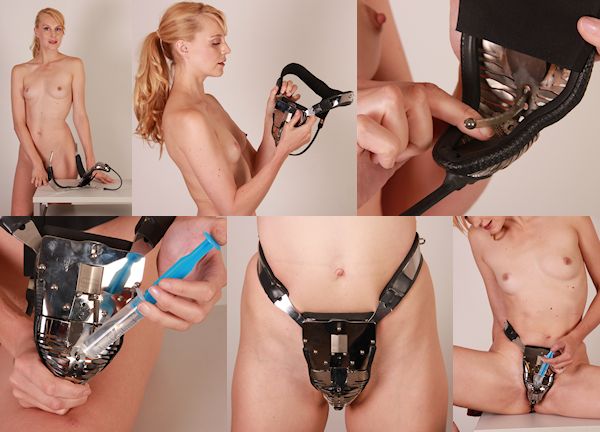 When I started this website, I never could have imagined that I would reach 300 updates! That's a lot of girls in a lot of chastity belts!! It has been a great journey, and I feel proud and thankful for the support I have received from you!
I will continue to strive to make CB the best female chastity belt website on the internet, and I will do that by closing the best Chastity Deals with the most beautiful girls, and having the best and most diverse chastity devices that are out there. Always tight and adjusted to the girl, no fakes, no touching!
One brand was missing so far: the incredible Carrara Designs chastity devices from Belgium! Well, I just had to order one from the very kind Walter, who does such an excellent job of making extremely secure devices for girls and guys! This is his latest design: the Carrara female belt, which features an integrated high security padlock (key can not be copied), snap shut locking, and an built in rinsing system that will spray water from a little perforated hose onto the caged pussy, eliminating the need for cleaning breaks.
Who better to present this newest belt than the famous bondage model Ariel Anderssen from the UK! She is one of the best presenters I have ever seen and she will demonstrate all of the belt's features, in addition to locking herself into it, and commenting on the feel and the incredible security of this device. Loose the keys and you are in it for life! Ariel got all excited presenting this video while locked in the belt! You can read more about this belt here: http://www.carrara-designs.be/products/femalebelts/index.html
Just take a moment to celebrate the 300th update with me. Don't send me any gifts or thank you's – if you really want to help, please consider supporting the website by joining as a member. The price is really low for all those gigabytes of female chastity content! Let's go for the next 300!