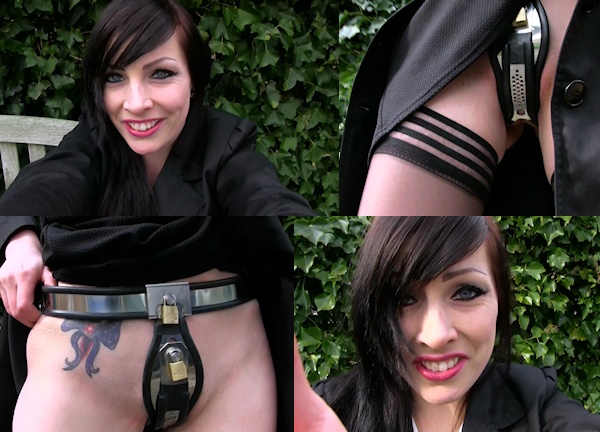 Here's Amarantha's new report for today! Funny, the frequency of reports is increasing now. She must have something urgent to say to you!
Amarantha does have a regular job like everyone else, she is a social worker and she has meetings and all the other boring job requirements that working people have. Taking a break, outside on a park bench, Amarantha reports on her status. She now seems really torn between wanting to be challenged and the relationship problems with her boyfriend, who is not very happy about this Deal anymore.
Also, a hip style model belt can be very hard on the skin on the hip bones. The belt is very tight, but Amarantha seems to be dealing with it ok. She even reports on how she rode her bike to the supermarket! Still, she (kind of urgently but friendly) asks you to consider to let her out now. It seems to her (and to me as well), that a public vote (members and non-members) will never reach 51%, and that is a scary thought for Amarantha. It should be, she is at the mercy of anonymous people who she can not reason or argue with, anyone can just click 'no' on this poll and there is nothing she can do about it, except delivering us some really really convincing reports. Is this the one?