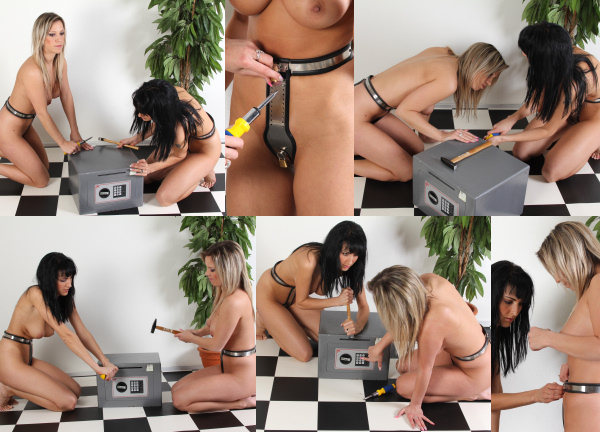 Please welcome Regina and her sister Jessy to our website! Regina emailed us, asking if she could be a Chastity Babe. She was a little afraid to get belted, so she asked us if she could bring her sister Jessy. Of course we agreed! This is the first time we did not have to find any models, they contacted us! So we skip the Casting and go straight to a Challenge update!
We spent quite some time getting the belts just perfect for these two sisters. Regina is tall with a very slim waist, so her belt required a longer crotch piece. We adjusted the front and back so the holes are positioned perfectly. Her blonde sister Jessy is shorter and she requires a completely different sized belt, both at the waist and at the crotch. The result is perfect, the belts are super tight and securely locked, no escape without a key!
So where are the keys? We put them in a combination safe on the kitchen floor. Challenge: the naked sisters have to guess the 5 digit combination. Soon they get bored and start attacking the safe with a hammer and screwdriver. They even try to pry open their chastity belts, but it simply does not work. They will need the key to open their belts or we will add a little twist to this challenge!
How will they solve this situation?