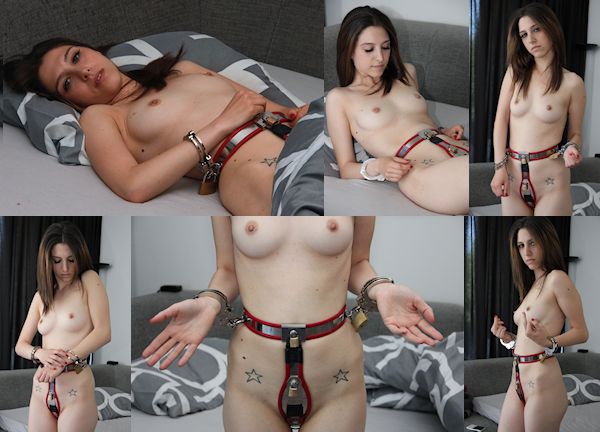 Here's the final Challenge from the initial 30 day deal in June! As suggested by some members, long before Donna arrived, there had to be a bondage challenge again, just like 2 years ago. On the day before her unbelting (which didn't happen), I visited the apartment in the morning to handcuff her wrists to the side D-rings on her belt!
I then left, saying I would return in the evening! I couldn't wait to see what was recorded during that day, as you can imagine! How would Donna cope all day with her wrists cuffed to her sides? Turns out it was not a very well-considered plan… as Donna told the static camera out of frustration. She couldn't get dressed, couldn't go to the toilet, and she also said she couldn't eat or drink (which I don't think is true). Of course, she could always call or text me to return with the keys, as Challenges weren't a part of the original contract (they are now!!!).
Still, she managed to mope around the flat for over 4 hours before calling me… it is great to see her move around in this limited pose. It also occured to me that the handcuffs actually add to the chastity situation! If the belt hadn't been 100% effective (fortunately it was), this would be a good way to enforce chastity during the night. Maybe I can try it on the next girl who will come in for a Deal, although she would have to sleep on her back all night, as Donna demonstrates in this video clip.
I came in to give her the key in the afternoon, but not before I snapped a few pictures of a very frustrated Donna (giving me the finger of course, what else). I hope this is the update some of you have been waiting for, you have requested this a long time ago, and now you finally get to see the results!