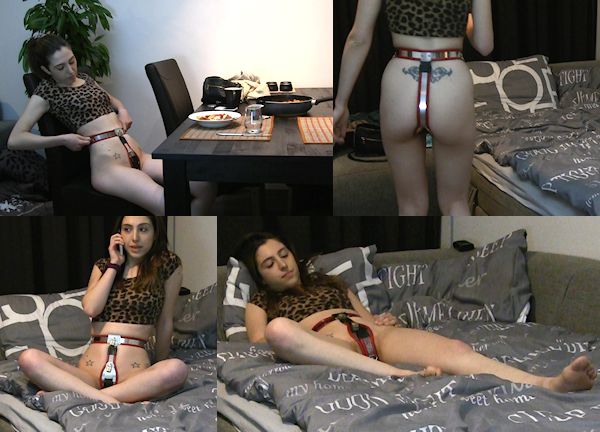 Here's another little gem from Donna's initial 30 day Chastity Deal! She made herself some delicious pasta in the apartment, it was so good that she forgot that you have to watch what you eat when you're in a chastity belt! Donna is a very tiny girl with an even tinier stomach, so eating a lot of pasta really makes her belly bulge! You probably know the feeling from when you have eaten too much, but it is not very comfortable when you are locked in a tight My-Steel belt!
Donna cleared the table and had to lie down. She could barely move! The belt was pressing into her full stomach and the only thing she could do was lie down and wait. Well, there's something else of course: she made a phone call to Italy! The static cam captured her talking to someone for a long time, but I don't have a clue what she was saying. I need the help of an Italian member! Please send me the subtitles at webmaster@chastitybabes.com (in SRT format, or if you don't know how to make an SRT file, just send me a text file with every subtitle on a new line). You will be helping me, this website, and the other members a lot!! I'm just curious if she did say anything about me ;-) And maybe there's something in there that tells us how she really feels about the belt, when she can speak freely in her own language to a friend.
There's so much Donna stuff, I'm almost thinking about giving her her own website so I can do other stories here (there are some exciting developments with other girls!), but I'm not sure. I think a separate Donna site would help raise funds for a bra, collar, wrist cuffs, ankle cuffs, and thigh bands from My-Steel, as well as giving her the opportunity to have a 'job' in Amsterdam, by modelling, blogging, and webcamming for you. On the down side, I don't think people will be paying for two chastity sites, but maybe that can be solved by offering a package deal!