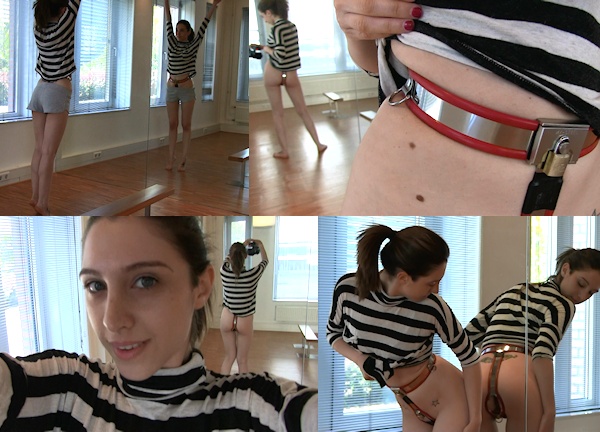 What is this? TWO Donna's? I'm afraid not, it is just a mirror wall… But as soon as Donna saw it, she wanted to do her exercises there, it reminded her of the ballet classes from her childhood!
Sure, a girl needs to stay in shape, even in a chastity belt. Or rather: especially in a chastity belt! Donna can not gain any weight this month! But with her tiny frame, I'm not even sure if she is capable of gaining weight. She can eat lots and lots, and she still looks the same. Her waist is so incredibly tiny, I had to convince My-Steel that I wasn't ordering a belt for a child.
Donna is still super relaxed in her belt. Just look at the things she can do! She is pretty flexible, and none of her exercises are a problem in the belt. Also, she looks amazing, standing there in her shorts and top, in front of the big mirror. I gave her the camera, so she could report on her progress, and the footage of her filming herself is incredible! You can see all the details of her belt as she even took off her shorts for you! And because of the mirror, you can see her from both sides at once!
Donna is such a natural Chastity Babe! You would never guess she was wearing one if you'd meet her in the streets of Amsterdam. In this Chastity Deal, she handles everything with such openmindedness and ease! Donna is reading all of your comments, and she has indicated she will be available for photoshoots or meetings with members, if anyone is interested!