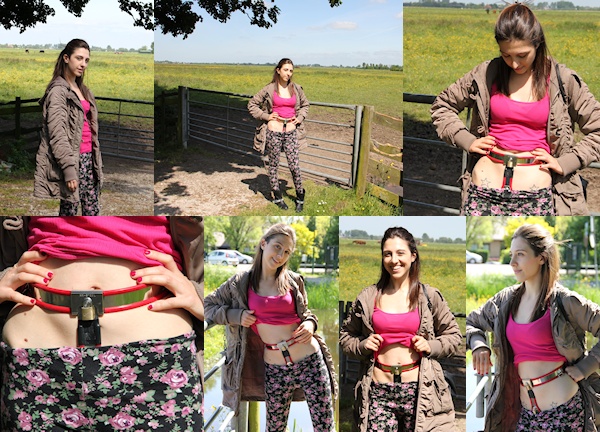 On the third day, Donna couldn't stand to be in the big city apartment anymore, she even called me to take her out to the countryside for a little walk! I grabbed my photo and video camera, and off we went, to see the horses… they must be wondering why girls in chastity belts visit them all the time (Birdy Dee also went there).
As you may have noticed, Donna is different than 2 years ago. She is more open, less shy, not sulking (at all!!), and this made me encourage her to speak to the camera a lot more during this stay! After all, most of you have indicated that you want to hear from the girls how they feel and cope! Donna is slowly warming up to that idea, being a reporter in her own chastity belt. Her cute Italian accent is very pleasant to listen to, she could have done her reports in Italian, but then I need to subtitle it again, so it's great that she makes an effort to explain what she feels like in English!
The horses got curious (again) and it is fun to see them approach Donna as she enjoys the sunny weather (though still wearing a coat, because she thinks Holland is cold compared to Italy). This is such a care free and happy update, I am sure you will love Donna even more! She definitely is a Chastity Babe in her tight red My-Steel belt, posing in the sun!