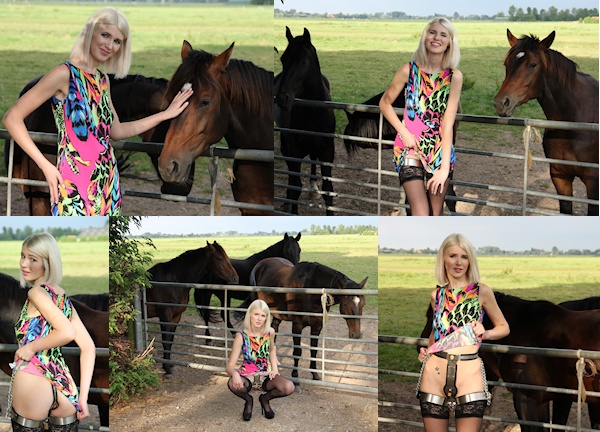 We really wanted to test our new thigh bands outdoors, so we took our tall blonde Scottish girl to some very curious horses in a nearby field! The whole chastity contraption (rigid style belt and high thigh bands) looks incredible on Birdy Dee! There is no way she can take this gear off without the keys! Her thighs are locked together, but at a very high point, so she has full mobility and can wear her very short dress in public.
In high heels that make her legs even longer, Birdy Dee struts around near the gate, petting the horses and feeding them some fresh grass. The horses seem to approve of our new thigh bands, and more importantly: they like our new Chastity Babe! We told Birdy Dee she has to win you (the members) over to take her back for a long term challenge, something she 'really really' wants to do. Actually, it is why she contacted us in the first place, she wants to try a Chastity Deal, and she hopes you will like her enough to give her one!
In the video clip, Birdy Dee tells you what she thinks of the chastity belt and the thigh bands. She thinks it is very cool they can be worn under her dress, with only a few lumps on the sides betraying where the padloks are. Amazingly, she comments that the belt is actually pretty comfortable (she only had been wearing it for less than an hour and she was already fully used to it!). She then goes into detail why she would love to be featured on this website in a Chastity Deal and that she is hoping for you to leave positive comments or email about her! She is definitely reading this, so tell her what you think! Remember: member opinions have priority over visitor suggestions!